Published December 11, 2021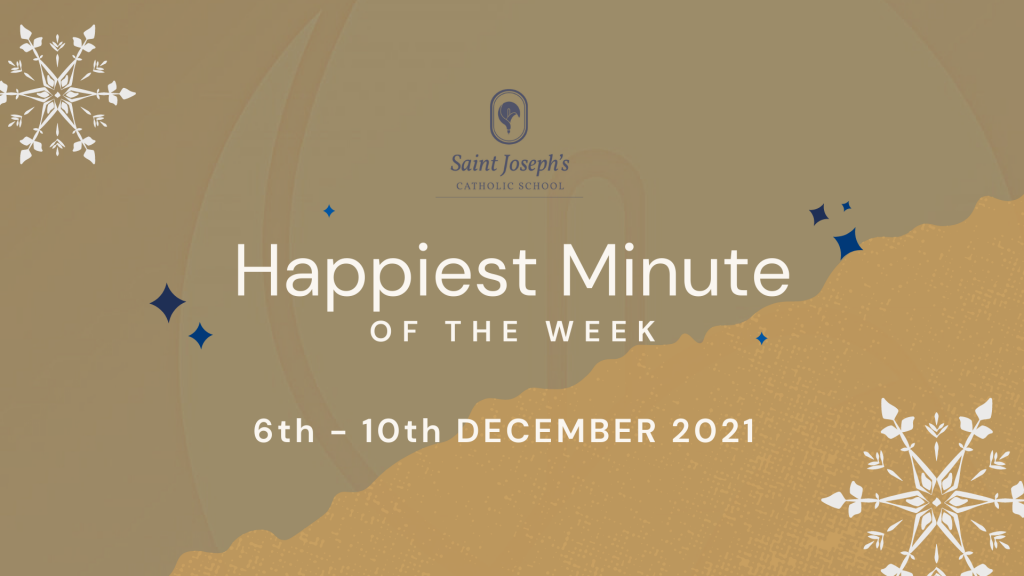 Every week, our staff send in their submissions for the Happiest Minute of the Week. These can be anything from a whole class behaving well, to the small and kind gestures that make someone's day!
All of these Happiest Minutes are then presented to the whole school every Friday by Mr. Ford and Mr. Bartel in the weekly rewards raffle.
As part of our ethos here at St Joseph's, we love to share kindness, gratitude and positivity. So without further ado, here are this week's nominations for Happiest Minute of the Week!
Happiest Minutes of the Week
Mr Coultas-Pitman:
RA (8V) – Magnificent effort with working from home tasks as she is currently not in school. Really impressed!
LJ (7F) – Smashed the Map Skills test, no ebi as it was perfect geography!!
Mrs Nobis:
HW (11T), DB (11F) and GC (11M) for attending the ROC Stars sessions with SWGS and ensuring they benefit from opportunities offered to them. Also they are fab and made me smile on Tuesday evening!
Mrs Jones:
For my history classes – 7BY, 7C and 7D, for their amazing creations of battle axes, shields, poems and stories for their Battle of Hastings project.
Massive thank you, to the FANTASTIC students and staff at St Joseph's; for your amazing care, humour, kindness and thoughtfulness over the past few weeks. It is a privilege to be part of our St Joseph's community. You really are THE very best, thank you.
Mr Ball:
CB (8T) for having to put up with my loud voice in PE lessons.
CL for amazing dribbling at the Basketball tournament. Complimented by all the other PE Teachers present.
Mr Sibley:
To stay after school with AK (11V) and produce an outstanding idea of his DT project. It would be nice to see more of the year 11 PD class making use of the opportunity to complete some extension work after school.
Mrs Snell:
NH (10T) for acting bravely when someone needed their help.
FP (11M) for being brave when it was needed, supporting others
CB (10M), MJ (10F) and CG (10F) for supporting others
Mrs Peters:
Can I please nominate KW (8T) for her consistently brilliant cooks in food tech, not only is she great at cooking she also goes out of her way to help others.
Mr Brown:
JK (9F) – OUTSTANDING rugby performances… leading to him joining rugby club. #machine
Mr Rooney:
For smashing their target grades in the RE mock GCSEs: GG (11F), GOW (11V), FP (11M), SM (11F), DM (11F), LG (11V), CN (11T), MW (11M)
Mr Valjak:
HP (11T) for his great attitude to learning in Religious Education
RG (10M) for rewarding me with a Maoam for my excellent handling of the computer in R28
Mrs Barratt:
C (7T) – great Spanish conversation skill
ER (7V), ER (7F), E (7F), J (7M) – great use of target language in lesson
Year 11 students for really stepping up their prefect game and improving our school community with clubs, groups and equipment
Mrs Snell, Miss Brignall, Mr Wilkinson for supporting year 11s with these.
Mr Minns:
Yr 7 Really pleased with 7HA Science set for a cracking set of excellent marks in the recent test on Cells.
Yr 8 A shoutout for RA (8V), TC (8F), BC (8F), CG (8F), KR (8M) and TW (8M) for really trying hard in Science.
Yr 9 I would like MB (9F), GB (9M), CG (9F) and MW (9M) to know how pleased I was with their most recent Homework. Well done guys.
Yr 11 Congratulations to CA (11T), PF (11M), CN (11T), JP (11M) and SR (11F) for achieving their target grades overall in the recent Science Mocks, answering some quite tough questions really well.
Mrs Halls:
When the English Dept threw a surprise Tea Party for Mrs Pearson to wish her every success in her new role for January – a great memory!
A massive thanks to TCY (10V), BR (10M), TD (10T), TH (10V) and JS (10F) RL (10F) for helping set up the party ready to surprise Miss.
Mr Bartel:
9BX and 9D for a brilliant trampoline lesson. All ace but particularly AW (9M), JB (9V), OK (9F) and JP (9V).
Thank you to every class I visited today touring potential pupils. Every young visitor and parent was seriously impressed at the respect you showed standing up and informing them of what you were doing in class. It showed an immense pride in our school and in what we all to together.
Well done to everyone for another fantastic week. One more week until we break up for Christmas!