Published October 1, 2021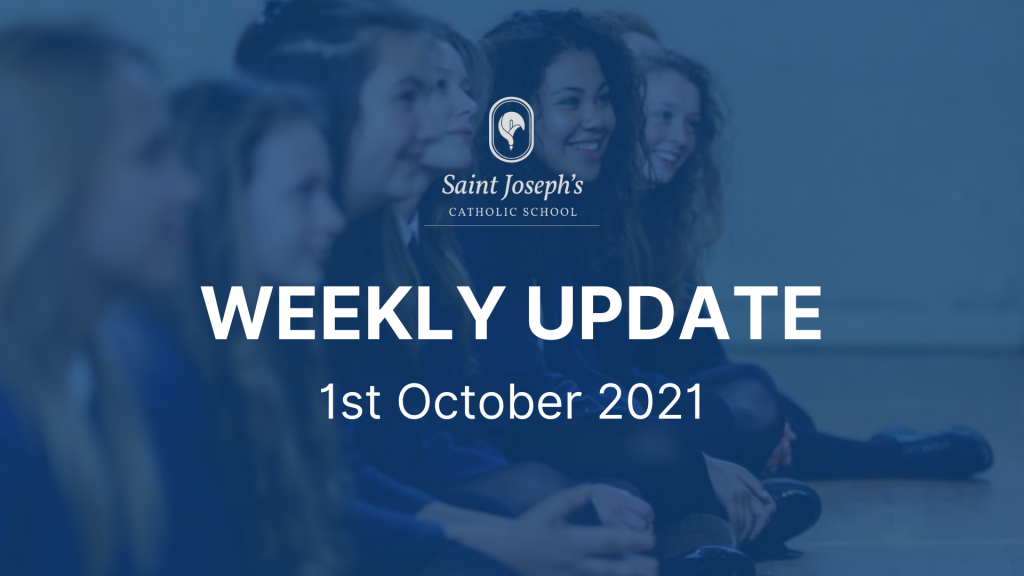 This week has certainly had its challenges and we'd like to thank you for your support and understanding.  We had high hopes that at the start of the year we'd be able to begin to operate as close to normal as possible, but with cases in schools locally and nationally on the increase this is not the case!
Although we have been fortunate with regards to the number of cases being far lower than other educational settings it is critical that we take every precaution.
We'd like to thank you for your vigilance with home testing lateral flow kits and with any subsequent PCR tests that you have taken. It is important that we all do our bit to keep everyone in our community healthy and safe. It is with this overriding concern of keeping everyone safe and healthy that has led us to insist on masks in corridors, staggering Year 7, 8 and 9 lunches and the postponement of after school clubs.
These aren't decisions that we wanted to make but are for the good of all in our community and we hope that they will be short lived so that we can return to normal school life as soon as possible.
Excellence Evenings
Many thanks again for your support and attendance at the evenings – we hope you found them worthwhile and valuable. The presentations have been loaded onto our website and can be accessed by clicking the following link: Achieving Excellence Evenings
Yr7 House Parties and Yr7 Form Tutor Evening
Regrettably, we have had to postpone the year 7 House Parties. Rest assured these will be rescheduled soon as we really appreciate how important these parties are for bonding and team building of the new forms. We will circulate new dates as soon as they are confirmed!
The Year 7 Form tutor evening is still going ahead and will be run virtually. You should have received an email this week providing instructions on how to book your appointments. This is a fantastic opportunity for you to meet your child's form tutor and talk through how their transition has gone and how they are settling into life at St Joseph's.
Virtual Tours and Open Event
This year, we are not offering our traditional Open Evening and Open Morning events. We have been conducting Covid-secure tours over the last few months and these have proven to be so popular that we no longer have any tours left to book!
With this in mind, if you know of any Year 6 families who are interested in joining St Joseph's in September, please do point them in the direction of our Learn More About St Joseph's webpage.  It has a virtual tour, clips from pupils and teachers and a chance to explore the curriculum areas here at school.
VirginCare & Vaccinations
Yesterday, you will have received a letter from us regarding vaccinations.  We must reiterate here that we are the venue only. VirginCare will be leading the whole process and responsible for the Flu and Covid vaccinations (separate vaccinations).
We encourage you to read the information that has been provided and discuss the vaccination with your child.  You will make the decisions that are right for you and your family, and we'd like to reassure you that all decisions made will be respected by all in our community.
It is important to note that the consent form link will only be open 48 hours before 13th October. Please put a reminder in your diaries for completion of the consent form link.
Please note, if your child has tested positive within the 28 days before the vaccination date, they will not be able to have the vaccination at school, however; an alternative date will be arranged via VirginCare.
Year 9
The options process is now in its final throws. Options meetings have been happening this week and options choices have been confirmed across the year group. Options will be beginning in January next year and it is important that all pupils still 'do their best and mind their manners' in all of their current subjects!
Achievement Points Race
Margaret are still out in front! Here are the latest scores:
1st place: Margaret with 7,559 points
2nd place: Vincent with 6,881 points
3rd place: Teresa with 6,641 points
4th place: Francis with 6,029 points
Have a lovely weekend!
Mr Rooney