Published July 15, 2022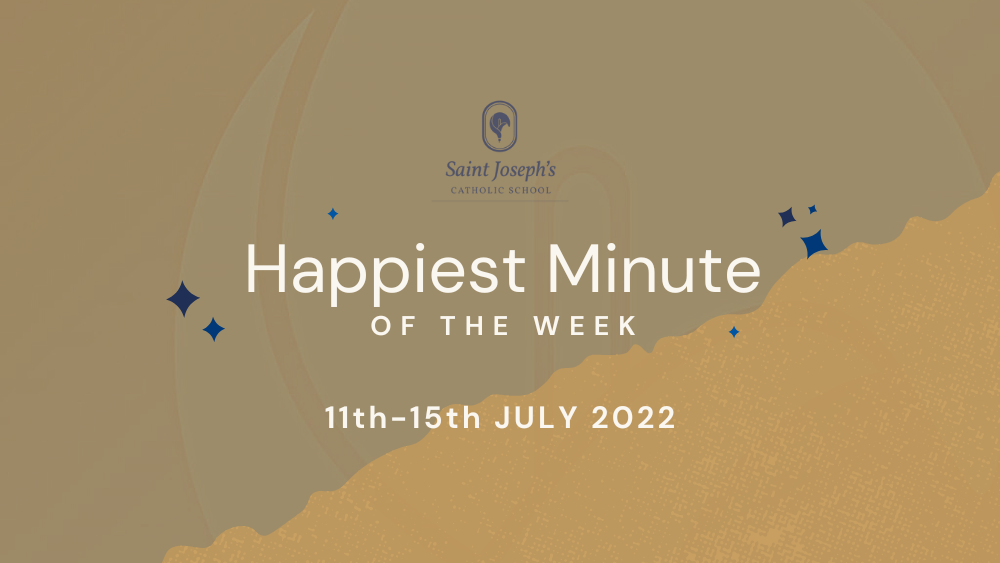 Every week, our staff send in their submissions for the Happiest Minute of the Week. These can be anything from a whole class behaving well, to the small and kind gestures that make someone's day!
All of these Happiest Minutes are then presented to the whole school every Friday by Mr Ford and Mr Bartel in the weekly rewards raffle.
As part of our ethos here at St Joseph's, we love to share kindness, gratitude and positivity. So without further ado, here are this week's nominations for Happiest Minute of the Week!
Happiest Minutes of the Week
Mr Bartel:
TS (10T) for handing in a wallet that she found on the floor that belonged to a parent of one of our students.
Vincent House – so proud of all our participants and staff. A great effort to rise from the ashes into 2nd spot. The rise will continue. Who are we!?!
Well done to Margaret House on your sports day win. Fair play to you and particularly 10M.
In amongst the records, points, medals and what not, the smiles, dancing, face paint and flags were incredible from everyone and there was a lovely atmosphere.
Everyone that took part in Race for Life – what an afternoon. So good to have that back.
Mrs Nobis:
I would like to nominate Mr Caruso, 7F and Mrs Jones 8F for organising the Francis House jaguar T-Shirts – they look amazing!!
DI, CW, GA, SC, AW and MW (9M) and LC, JK, IH, OD, TB and ED (9F) for getting into the Salisbury Chamber of Commerce Education Challenge Finals with their projects for developing Salisbury.
Mrs Foster:
I covered Y8 HA today – what a wonderful class and so helpful. Shout out to all of them!
Mr Inglis:
I think IW (7T) deserves a special mention taking part in 1200m today. As she was running a fellow student fell and injured themselves ahead of her. She did not hesitate to stop and help this student until someone could come over and assist. She then completed her race after helping. Truly encompassing SJCS values!
Mrs Jackson:
Seeing 10M win so many prizes – a very proud moment when Margaret won and a memory that I will cherish. Well done 10M and all of Margaret House!
Mr Bazen:
To the panel who worked on behalf of the student body with our inspector, Mrs Goodall on Wednesday this week – she was 'blown away' by your answers. Your mature and thoughtful approach, love of your school and its staff came through.
Well done to you all and thank you LW (7T), KG (KV), SN (7F), LH (8M), MK, CN (8T), RB (9T), JB (9M), FS (9V), WM (10T), LP, MO (10M)
Mr Sibley:
Please can you congratulate the following students from my Year 9 food class. They had their first timed food exam in the heat on Wednesday and all did very well, with some getting grades as high as a 7. Some very talented chefs in the making! JB, KL, CL, ARG, LM (9M), RB, SH, JP (9V), JB, MR, BR (9T), CF, OK, MS (9F).
Mr Valjak:
In 10T – ALL the athletes, supporters, and fair competitors at Sports Day. Extra shout out for NT (10T) for a truly inspired form flag!
Mrs Maher:
EL (10M) for embracing revision guides!
Mr Rooney:
DY (8F) & KK (7M) – absolute heroes helping with chairs in the hall for the multiple evenings this week! FI (7M) and JT (8V) were also very helpful!
Year 8 boys for carrying the gazebo weights up to the athletics track: MR (8T), AH (8F) RW (8M), OW (8F). FW (9T) and CL (9M) for carrying the Gazebo up too! And all of Teresa House for being awesome on Sports Day!
All DOLs for their efforts this week too with the celebration evenings, Mrs Pearson for providing the refreshments all week, and Mr Ball, Mrs Jones, Miss McFarlane, Mrs Evans for calling out their forms.
Mr Ford:
The outstanding culinary skills on display in the profiterole workshop on Tuesday – special shout to SH (9V) and JP (9V) for allowing me to sample their hard work.
Let's have a really great last week of this academic year!