Published June 17, 2022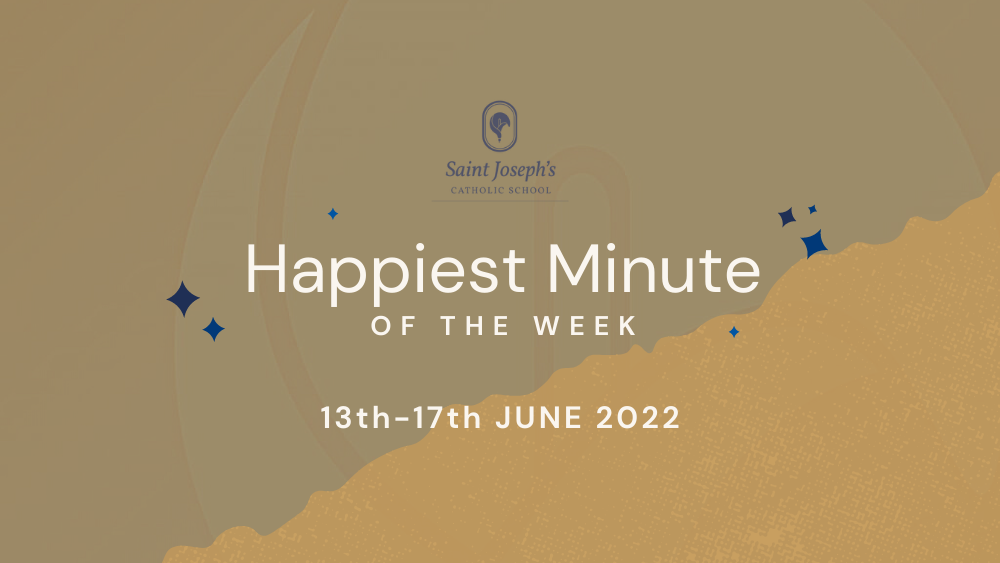 Every week, our staff send in their submissions for the Happiest Minute of the Week. These can be anything from a whole class behaving well, to the small and kind gestures that make someone's day!
All of these Happiest Minutes are then presented to the whole school every Friday by Mr Ford and Mr Bartel in the weekly rewards raffle.
As part of our ethos here at St Joseph's, we love to share kindness, gratitude and positivity. So without further ado, here are this week's nominations for Happiest Minute of the Week!
Happiest Minutes of the Week
Mr Bartel:
TD (9F), CG (9M), KL (9M) for genuine proper bowling, actually better than the side Mr Thompson lost his wicket to on Tuesday night.
RW (8M) line and length proper bowling.
OD (9F) for some big hitting even with a plastic bat.
AS (10V) for wonderful pace bowling and multiple booming drives over extra cover.
Ms Shuttleworth:
Mr Inglis & Mr Wilkinson for covering my lessons so that I could attend the Year 11 leavers breakfast and assembly and say goodbye to my form.
BW (10V) for making me laugh with his shocked response to his grade 8 assessment result. He was so convinced that he had been given the wrong exercise book he had to double check the name on the front before he believed it!
Mrs Hansford:
FI (7M) for first person in 7C to reach 20 minutes on Accelerated Reader.
RA, PL (9V), ED and CG (9F) in 9HA for producing a great newspaper front cover – as voted for by other members of the class!
HM (10F) in 10BY English for always being such a kind and caring member of our English class.
Mr Monk:
CN (8F) for helping clear up a cooking project dropped by a fellow pupil! What a totally brilliant member of St Joes!!
Mr Rooney:
My Year 9 RE class for embracing keyword noughts and crosses in such an enthusiastic manner as part of their revision this week! You were all awesome!
Mr Valjak:
OB (9V) for sharing his insightful understanding of the Trinity in Religious Education.
AP (10M) for her proactive approach to revision for her end of year exam on RE.
See you next week!