Published November 22, 2021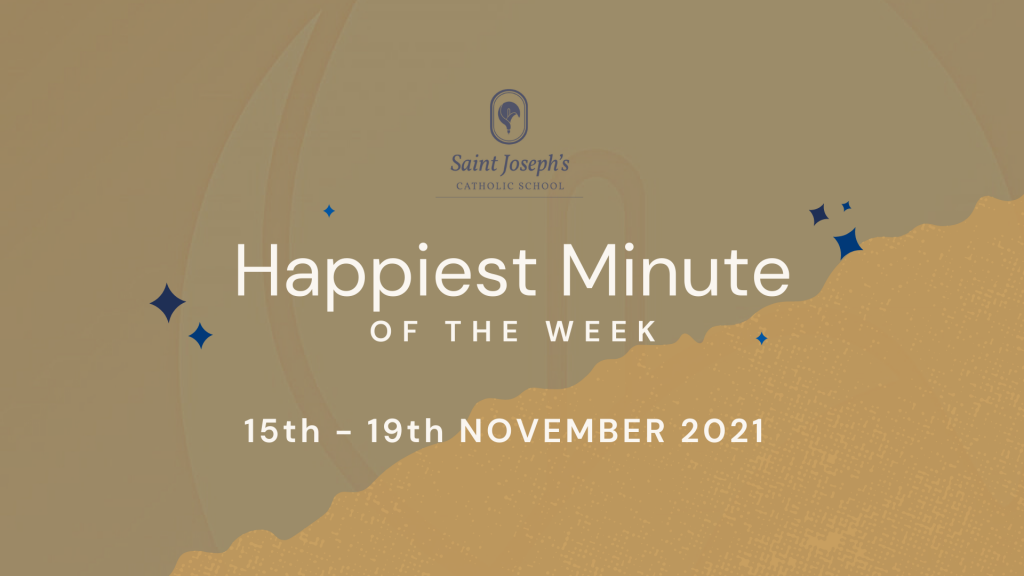 Every week, our staff send in their submissions for the Happiest Minute of the Week. These can be anything from a whole class behaving well, to the small and kind gestures that make someone's day!
All of these Happiest Minutes are then presented to the whole school every Friday by Mr. Ford and Mr. Bartel in the weekly rewards raffle.
As part of our ethos here at St Joseph's, we love to share kindness, gratitude and positivity. So without further ado, here are this week's nominations for Happiest Minute of the Week!
Happiest Minutes of the Week
Mrs Nobis:
Please can we give a shout out to JB and AK (11V) who cleared the Hall of ALL benches after Year 9 PSHE Wednesday; they were asked to do one between them, they did them all (individually). Total heroes and real gentlemen!
Also Mrs Evans for always being the calm in the storm and, students reliably inform me 'the nicest teacher in the school'!
Mr Coultas-Pitman:
Would like to thank students and staff for welcoming me back, really illustrates the care we have in the community. My happiest minute of the week for sure.
Mrs Snell:
JR (10M) for tidying the pastoral classroom and supporting others that needed it, thank you for being awesome!
AC (9V) for absolutely smashing being English TA, they love having you – absolute star!
Mr Ball:
SL (10T) for excellent Table Tennis!
Miss Moss:
TH and LW (10T) for being so kind and supporting a Yr 8 Pupil this week. Fab work!
Great tackles from KA (8M) in her Rugby lessons this week!
Mr Valjak:
GH (11T) for being polite and very helpful.
CW (7M) for his 'text-book-perfect' PEE answer in his RE assessment.
KK (9M) for always being polite and working hard.
Miss Evans:
Mrs Blake for her support with Year 10.
Ms Shuttleworth for being an absolute star and putting a smile on my face.
AO (8V) for some fab PD pieces of work.
FJ (8M) for an amazing landscape copy.
AF (7V) for a great start to KS3 Art!
Mrs Barratt:
EJ (7F) for beautiful pronunciation of ¿qué tal?
News Cycle Club for their great idea of the compost bin
FP (11M), GG (11F) and BP (11V) for stepping up and organising the agenda for the first two sessions of the groups/councils running after mocks.
Mr Inglis:
AO (7F), IW (7T), TH (8F), RW, SR (8V), JB (9M), JP (9V), OK (9F) all for doing an excellent job on their recent assessments!
Miss Shuttleworth:
TH (10V) for his amazing performance in History Splat! Brilliant subject knowledge demonstrated and he was so keen and enthusiastic to 'splat' the correct answer first he broke the fly swat!
WM (10T) for coming to my rescue in a cover lesson by helping to get the computer to work.
AT (11T) for giving so generously to the shoe box appeal and for generally being such an all-round very nice person!
Mr Rooney:
CM (10T) for being a top friend when they needed it.
Mrs Peters:
I'd like to nominate CFB (8T) for his Fajita making skills.
Mr Bartel:
OA (8M) for taking on the champ in the arm pulling game and walking off a serious leg bash from MK in rugby.
KD (9M) for receiving an education in the strength test in rugby.
Well done to everyone for another excellent week!