Published April 1, 2022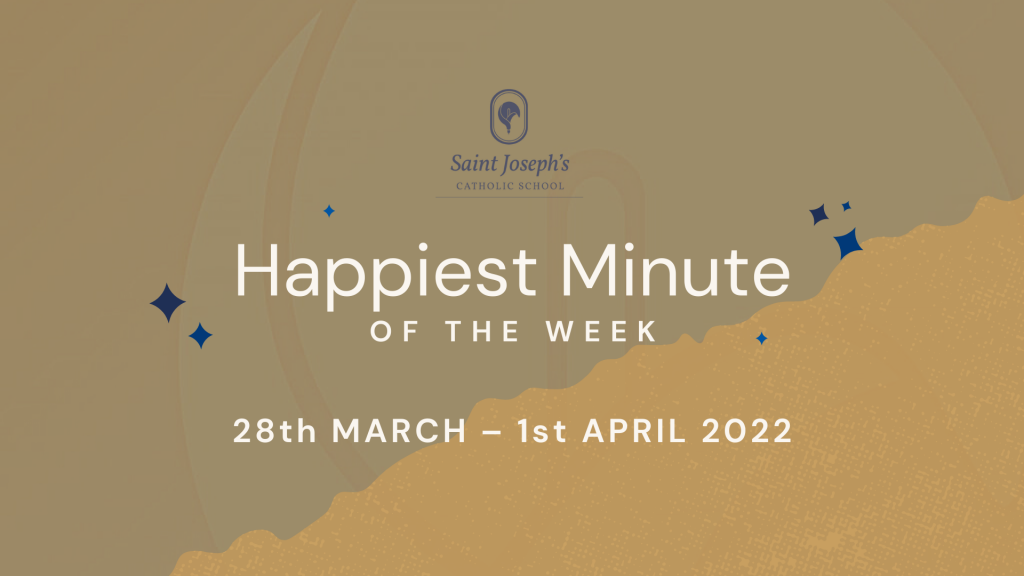 Every week, our staff send in their submissions for the Happiest Minute of the Week. These can be anything from a whole class behaving well, to the small and kind gestures that make someone's day!
All of these Happiest Minutes are then presented to the whole school every Friday by Mr Ford and Mr Bartel in the weekly rewards raffle.
As part of our ethos here at St Joseph's, we love to share kindness, gratitude and positivity. So without further ado, here are this week's nominations for Happiest Minute of the Week!
Happiest Minutes of the Week
Ms Shuttleworth:
Mr Blakey for very kindly putting together the Teresa house music for the forthcoming Dance off.
KD (9M) for excellent focus and great contributions to class discussions in History.
FH (9M) for achieving Historian of the Week this week.
RM (10F) for the beautifully presented work in their exercise book and for being an amazing 3 grades above target in the recent assessment.
IL (10M) for brilliant answers and great participation in History.
Miss Clark:
Year 7, and our Salisbury School Book Awards readers, for coming to the talk and workshop with author Kirsty Applebaum. We've got some talented authors in the making! Special shoutout to our readers: AH, TH (7V), VG (9V) and JM (8F).
Mrs Reynolds:
All of 8C and 8D RE for their brilliant behaviour and effort this week. Keep up the excellent effort.
Mr Bartel:
KC and MW (10M) for teaching me and the class how to factorise and simplify in a maths cover – much more affective than me using google.
EL (10M) for helping me tidy and sort Inclusion – looking a lot smarter now thank you.
CL, JK (9F), TD (9F), RB (9V), CL, KD (9M), and NJ (9T) amongst others for fantastic vaulting.
OO (7V) for asking a friend who had just missed a shot at goal 'was that an April fools?'
Mr Sibley:
I would like to thank the following Year 7s for helping me set up for the DT NEA on Wednesday. They were so helpful in helping get laptops and equipment out for the start of the task. CR, AC (7F), and JR (7M). Thank you!
I would also like to thank all my Year 11 PD and food students for making the most of the opportunities they had to achieve their potential n the sessions we had this week. As well as all the teachers who missed them out of their lessons!
Mr Monk:
AW (8M) for her lightening quick maths brain in geography!!
LB (8M) for an amazing animal adaptation homework!
For showing resilience and focus during gruelling pop-up coastal defence model making: CB, EG, PL, BM (9V), IC, JG (9T), CF, AY (9F), and MM (9M).
Mr Brown:
CL (9M) for great reading in assembly.
NW (9F) for achieving the 'performer of the season' award in Year 9 Sports Ed. Worthy owner of the 'Golden Glove'.
Mr Valjak:
RL (11V) for his excellent application of knowledge in Religious Education lessons.
KR (9V) for his consistently positive attitude to learning in RE.
Mr Inglis:
MML, IW, FJ, BJ, AR (7T), SRG, LT (7M), RA, and JL (7F) for making my laugh this morning with that post-it note antics!
JB (9V) for working his socks off in RE and helping others too.
JB (10F) and RH (10F) for really engaged discussion on ethic issues in RE.
Mr Blaho:
Well done to the 27 people who were nominated for the Tree of Values award for Humility – your names are now on the wall in the corridor of values. The special award for Humility goes to GB in 9M – well done!
See you next week for our final week before Easter!