Published October 6th, 2023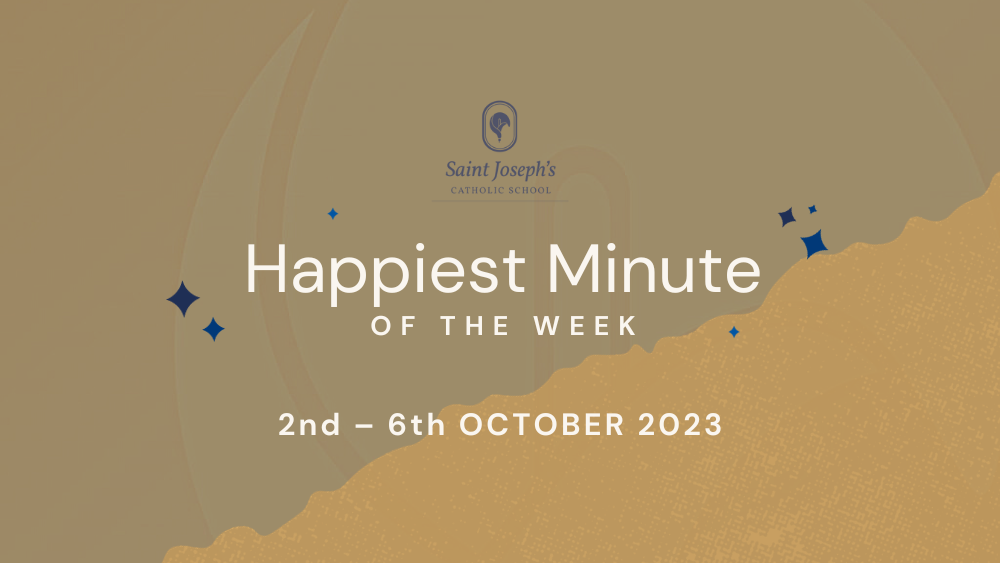 Every week, our staff send in their submissions for the Happiest Minute of the Week. These can be anything from a whole class behaving well, to the small and kind gestures that make someone's day!
All of these Happiest Minutes are then presented to the whole school every Friday by Mr Bartel and Mr Ford (or pupils who volunteer to host!) in the weekly rewards raffle.
As part of our ethos here at St Joseph's, we love to share kindness, gratitude and positivity. So without further ado, here are this week's nominations for Happiest Minute of the Week!
---
Happiest Minutes of the Week: 2nd–6th October
Mr Inglis:
Covering PE for Mr Brown this week watching Year 9 students tackle the tackle bags hard: LW, IW (9T), CM, SRG (9M) to name but a few.
Miss Walters for being a star and sorting out my incorrectly organised cover lesson worksheets.
FA (9T) for brightening my week and always saying "Hi!"
Mr Ball:
ZM (9V) for being extremely helpful in PE.
JT and JK (10V) for excellent and accurate recall drawing of a synovial joint in GCSE PE.
Mrs Hansford:
PS (9M), RA (9F), ZA, PD (9T), KJK (9V) for excellent reading in today's English lesson – great role models for your peers who like reading a bit less than you all seem to!
OH and CF (11F) for working hard during the cover lesson today!
RB (8T) for finding someone's planner and being kind enough to return it.
Madame Webb:
Great Spanish written work from EF (8M), GV and PT (8T).
Great French written work from RG (8M), PK and AS (8V).
Mrs Nobis:
Ms Shuttleworth for ensuring all cover got organised, books were found, and photocopies made in Mrs Nobis' absence.
Mrs Voce for keeping all the plates spinning this week always with charm and for being kind.
For everyone who has helped during my absence: Mrs Voce, Mrs Snell, Ms Shuttleworth for photocopying cover, Mr Rooney for sorting the Francis House treats on Wednesday, Mr Ball, MB & TD (11F) for delivering them, all teachers that have covered my lessons & all students who have worked hard & been delightful in cover lessons. Miss Hartsmith & Miss Clark for checking in on me. Also Mrs Parsons for sending SchoolComms out even without me being at school.
Mr Allen:
Year 10 rugby team on an exceptional performance today in their first outing today. They were exemplary, demonstrating the school and rugby values and no doubt have enhanced the reputation of the school. Most importantly they have enjoyed the value of friendship in adversity, teamwork, building personal resilience and pushed the boundaries of their self-esteem. They were great fun to be with and I'm looking forward to the next event – onwards and upwards!
Mr Rooney:
Mrs Blake, Mrs Webb, Mrs Hartsmith, Mrs Jackson, Mrs Corson and Miss Reynolds for hosting the Yr7 form tutor evening sessions this week!
ZM (9V) for looking out for a friend and kindly taking their stuff from the field to them at breaktime.
JS (10V) & KB (10V) for good effort and work in RE this week!
JP (7F) for always being very courteous and having great manners.
RS (7V) for looking out for a friend in need earlier in the week.
Miss McFarlane:
Year 7 – HG (7F) for being the most helpful and delightful young man and ELW (7T) for having a very good week.
Year 8 – CO, UP (8M), RR (8T), and AP (8V) for fabulous efforts in their assessments.
Year 9 – JB (9V) for being the coldest in the game.
Year 10 – OL (10V), KR, AW (10M) for great assessments (of the ones I've marked so far).
Year 11 – RA (11V) for an EXCELLENT analysis of coldness in stave one and EO (11V) for taking on the ocean and winning (losing).
Ms Shuttleworth:
SM (10T) for his perfect manners and consistently respectful attitude.
OF (11F) for his excellent attitude in History and for always being willing to contribute to class discussions.
MG (8V) for keeping the class guessing with his plenary hangman task which had to be a word linked to the learning. M went for PAGE FOURTEEN – the page number of the textbook we had been learning from!!
Miss Clark:
AV, MML (9T), SRG (9M), and MW (8F) for their help in the library – stamping books, organising the shelves, and helping with Thursday's book bonanza!
Mrs Halls and Mrs Woodward for managing the book bonanza while I was on a trip, and thanks to all the pupils who came and took books – Mrs Halls said the atmosphere and excitement was incredible!
Miss Hartsmith for being my 'apple accountability partner' – encouraging each other to eat our fruit so we don't take it home again at the end of the day. (You'll never grow out of this, kids. Eat your fruit!)
Mrs Pearson:
A well done to all the year 11's who went on the Geography Field Trip to Swanage on Thursday – they were so well behaved, an awesome day had by all. A special well done to JB (11T) & EG (11V) for really engaging with the team, and working well, excellent behaviour throughout the day.
Mr Bartel:
HH (8T) for setting up assembly for me.
Vincent House for being so wonderfully attentive in assembly.
The vast majority of Year 8 and Year 9 for their mature response to watching a performance on a difficult subject.
See you next week – let's make it another good one!