Published January 7, 2021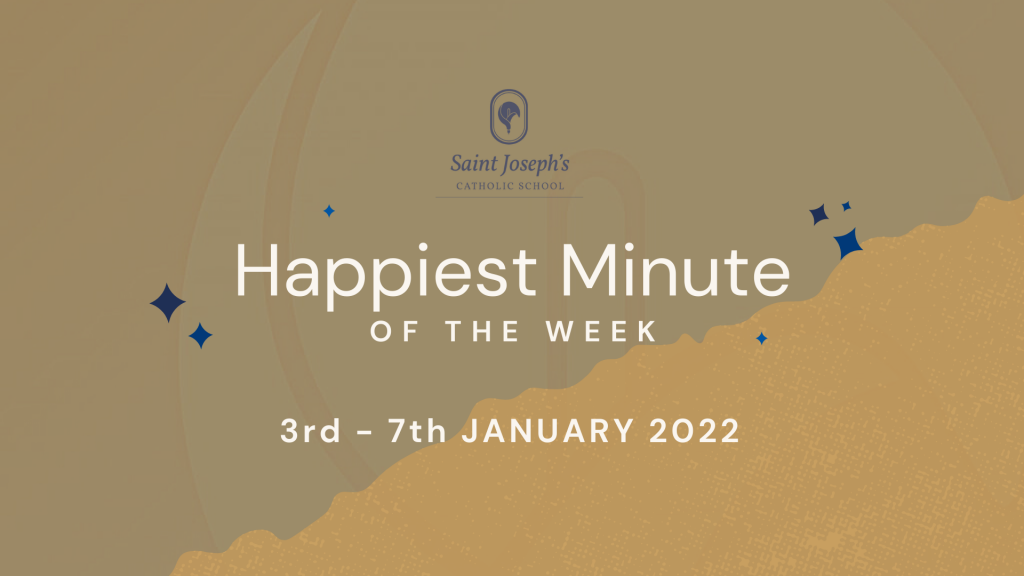 Every week, our staff send in their submissions for the Happiest Minute of the Week. These can be anything from a whole class behaving well, to the small and kind gestures that make someone's day!
All of these Happiest Minutes are then presented to the whole school every Friday by Mr. Ford and Mr. Bartel in the weekly rewards raffle.
As part of our ethos here at St Joseph's, we love to share kindness, gratitude and positivity. So without further ado, here are this week's nominations for Happiest Minute of the Week!
Happiest Minutes of the Week
Mr Bartel:
FW (10V) and KC (10M) for the perfect example in a lesson on negotiating of how to make a deal that makes everyone happy.
Year 7 dance – nailed it. Mr Brown and myself were delighted at that classes effort and application.
Many thanks also to Mr Caruso's maths class for tolerating me in cover – Maths – certainly not a strength!
Mrs Barratt:
EJ (7F) for great use of target language in class – pásame el pegamiento – pass me the glue!
SR (8V) for kindly getting a chair when one was broken.
Mrs Ridley:
9F were the best form for testing! They did not need reminding once about distancing and they were perfectly behaved – they were very good when Mr Ball is away.
Mrs Snell:
EM (11F) and JB (11V) for outstanding actions in assisting another young person.
Mr Rooney:
TB (9F), AM, AG (9M), and WCY (9T) for fantastic knowledge retrieval in RE on Weds!
KP (8V) for an excellent interpretation and explanation of a Ghandi quote in RE on Wednesday.
All 7D Spanish for fabulous effort and attitude in Spanish on Wednesday.
Mr Wilkinson:
OD (8T) for the loudest, most satisfying squeaky pop this year. It was most definitely Hydrogen gas!
RA (7F) and RS (7V) for being good sports when sprayed with water whilst modelling how candle flames emit water vapour as a product of combustion.
Mrs Jackson:
I loved seeing the year 10s play handball – good to see they have skills other than in the Maths class! To name a few: JE (10M) (demon dribbler), CH (10V), GA (10T), JA (10M) and NH (10T) – very helpful team leaders, some fantastic goalies (they know who they are). A real pleasure .
JS (9T) for doing lots of brilliant work – fantastic reasoning.
Seeing Year 7 settle so beautifully back into their routines.
Mr Valjak:
MR (8T) for being a regular and reflective thinker in Religious Education.
SW (10M) – for being polite and cheerful to others around school.
Mrs Jones:
The whole of 8F for ALWAYS being absolutely awesome! Special mention this week, for being so kind and welcoming to new pupils as they join our little family.
Mr Inglis:
I'd like to nominate CL (9V) for having a great start to RE this term.
Well done to everyone for a great and positive week back after Christmas!