Published July 5, 2021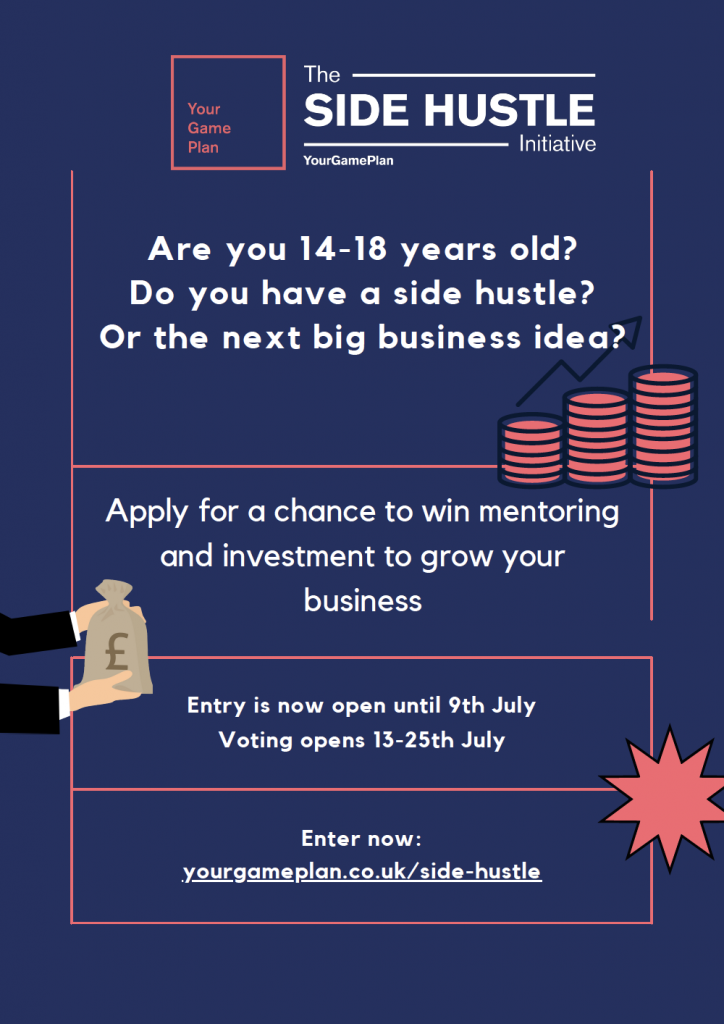 Do you students have a great business idea and want the opportunity to have professional mentoring and funding to develop it?
The Side Hustle Initiative is a nationwide search for all 14-18-year-olds who either are already delivering a side hustle or who have an amazing business idea that they are passionate about launching.
They are providing an opportunity for the top 25 individuals to gain access to one-to-one professional mentoring to support them in evolving their ideas. The top 5 finalists will share a £10,000 investment fund to go straight into growing their business.
Entry for The Side Hustle Initiative is now open until next Friday 9th July!
How does it work?
Students can enter now before Friday 9th July. They must fill in a short form outlining their current side hustle or new business idea.
Once the entry period has closed on 9th July, students will need to campaign for votes (13th-25th July) to secure a place in the top 20, which will give them an opportunity to pitch their business idea to our judges. An additional 5 entries will be selected as wildcards and have an opportunity to pitch their idea to our judges too.
The top 25 finalists will be invited to attend a 'Dragons Den' style pitch in front of our judges in a Central London location (dependent on COVID restrictions).
Entrants may include:
Revenue-creating businesses, making positive social change, arts and culture, or exciting new ideas.
ENTRY IS NOW OPEN and closes on Friday 9th July.
For more information, please visit: Introducing The Side Hustle Initiative – Your Game Plan
Full terms and conditions can be viewed on the application page. Good luck!