Published July 8, 2022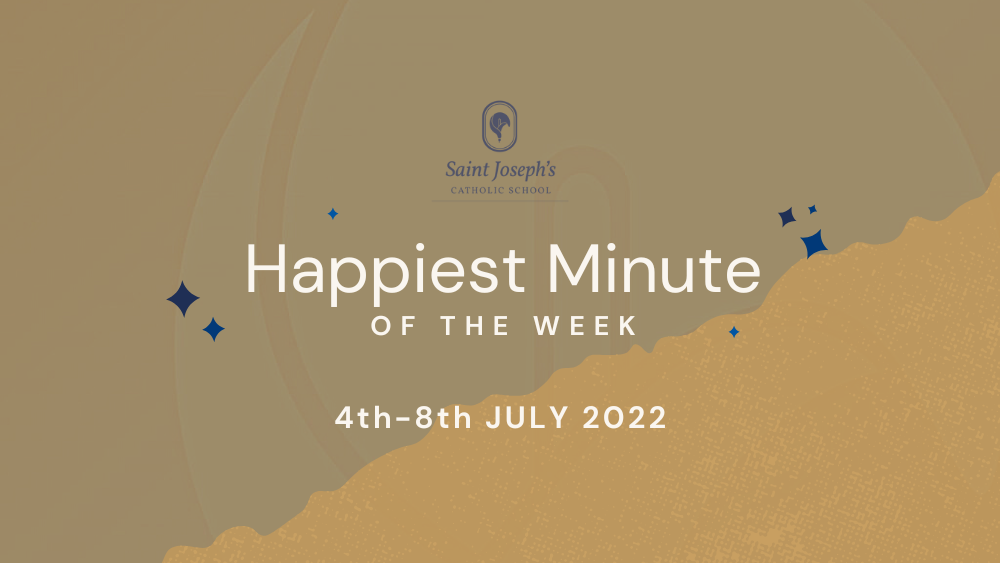 Every week, our staff send in their submissions for the Happiest Minute of the Week. These can be anything from a whole class behaving well, to the small and kind gestures that make someone's day!
All of these Happiest Minutes are then presented to the whole school every Friday by Mr Ford and Mr Bartel in the weekly rewards raffle.
As part of our ethos here at St Joseph's, we love to share kindness, gratitude and positivity. So without further ado, here are this week's nominations for Happiest Minute of the Week!
Happiest Minutes of the Week
Mrs O'Keefe:
A big thank you to MK (8T) for finding my purse on Wednesday even though I didn't realise I had lost it. I cannot thank you enough.
Mr Bartel:
FW, EF (10V), KC (10M), AR (10F), TS, CS (10T) for a very enjoyable session on Thursday.
PE and Tech for a lovely cake day. Actually stopped by for 10 minutes this week after break and had a lovely time!
Vincent House. Thank you for your energy this morning. We are Vincent. Go!
Mr Rooney:
Mrs Hodge, Miss Ryder, Miss Clark, Mrs Pearson, Mrs Fenwick, Mrs Scott, Mrs Columbine for being absolute legends and doing tonnes of work behind the scenes to make things happen!
Mr Adams for getting the hall ready for the induction evening – and for moving all the sports day stuff off and back onto the stage!
Mrs Goulding & Miss Moss for leading the Year 9s in charge of rounders with new yr7 on Weds!
New Year 7 Team (Mrs Marshall, Ms Shuttleworth, Mrs Sheeley, Mr Garvey, Mr Inglis, Mrs Henry) for all their efforts and extra hours on Weds at the induction evening!
IW and LW (7T) for their brilliant presentations at the new Year 7 evening (LW's via a pre-recorded clip and IW's live in front of over 250 people!)
All the year 9 helpers on Wednesday – truly excellent student leadership!
Mrs Nobis:
LB and TW (8M) for bringing an unhappy student to the attention of a teacher who could then resolve the issue (twice!)
Mrs Fenwick for organising the Andover College trip.
Mrs Jones:
As a proud form tutor, please may I nominate GB (8F) for her fantastic success in a National Street Dance Competition. She and her peers achieved 6th place in the whole country!
8BX, 8C and 8D History for their fantastic effort in their recent history exam. Special mention to CG, AH, KR, HW, TC, SS, CN, KS, EH, FJ, JM, LK, LR, KR, KA and AT who smashed their target grades!
Ms Shuttleworth:
AR (7T), SRG, NO (7M), RW (8V), AC (9V), LH (7M), GB (9M), and FS (9V) for being amazing in our Salisbury Museum History project this week – taboo experts!
Mrs Hansford:
JW (7T), RG and JL (7F) for overcoming their nerves and performing their drama piece in English!
FR (8F) for smashing Accelerated Reader out the park with a massive 60 minutes!
PL (9V) for taking the initiative to ask for help in how to improve her work after end of year exam.
Mr Valjak:
AP (10M) for her brilliant top level answer in her RE end of year exam – pleasure to read!
JE (10T) for showing great leadership getting Sports Day activities sorted for his form – thank you!
Miss Walters:
This week 7BY have been absolutely brilliant!! The NEW DREAM TEAM! Attitude to learning has been on point and I am so super impressed!
Let's have more great moments next week!