Published February 18, 2021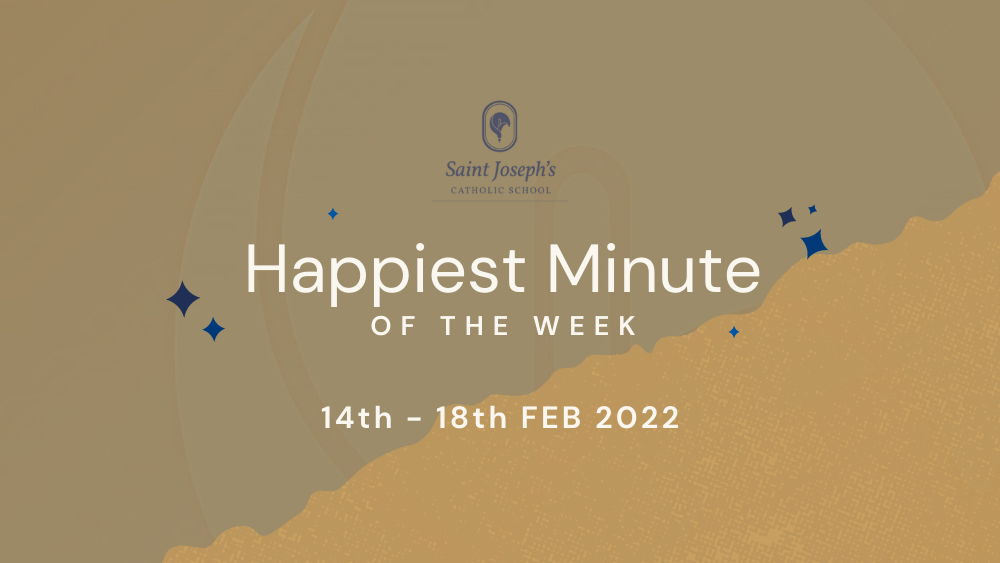 Every week, our staff send in their submissions for the Happiest Minute of the Week. These can be anything from a whole class behaving well, to the small and kind gestures that make someone's day!
All of these Happiest Minutes are then presented to the whole school every Friday by Mr Ford and Mr Bartel in the weekly rewards raffle.
As part of our ethos here at St Joseph's, we love to share kindness, gratitude and positivity. So without further ado, here are this week's nominations for Happiest Minute of the Week!
Happiest Minutes of the Week
Mrs Nobis:
Mr Sibley for bringing me a cuppa without asking when I happened to really need one!
7BY for coming up with some really excellent ideas in History.
Miss Moss for always being in the right place at the right time and happy to help.
Mrs Halls for being super supportive of other staff members and creating great lessons.
Mrs Sheeley's Year 11 English class for Wednesday's super cover lesson in which they worked really hard, especially JP (11M) and CL (11V).
DN (7V) for being kind and also really hard working.
Mr Bartel:
Big Sleepers for what they are going to do this evening, and also for enquiring as to how my fundraising is going.
DI (9M) for a super impressive fitness club for the Year 7 boys.
AG (9M) for his World Book Day Joke Book costume!
CL (9M) for his awesome goalkeeping – often keeping year 10 at bay single handed.
AF (10M) and her team for their dedication to Ultimate Frisbee and the power of friendship.
Mrs Marshall:
IM (7T) for her excellent use of girl power.
Mrs O'Grady for getting stuck in!
Mr Carusso, Mr Thompson, Mr Inglis and Mr Minns for saving me lots of work.
Ms Shuttleworth:
KD (9M) for excellent dual coding in History.
JJ (8M) and JF (8V) for their well written and very insightful essays on General Haig.
Mr Blaho for coming to the rescue when I ran out of exercise books.
EC (11T) and EN (11T) for their excellent stock taking skills!
MK (9T) for her lovely positive attitude and ready smile.
Mr Inglis for his amazing support in Year 10 History this week.
Mrs Maher:
RG (10M), CW (11M), DA (10V), MA (10V), LL (10V) for showing compassion for a pupil in a younger year, and for helping to supervise my class whilst they were on lunch so that I could deal with said pupil. A great deal of maturity shown by all!
All of 10C for completing their assessments to a fantastic level and really embracing Poetry despite their reservations.
SH (9V) for putting in a huge amount of effort and showing his true potential in English.
CC (11V) for completing a Literature assessment without any guidance or pre-planning and absolutely smashing out of the park!
Mrs Barratt:
ED (11V) and ZK (11F) for helping a younger pupil.
CW (11M) for sorting his college application.
Mr Inglis:
I'd like to nominate the following students for performing beyond expectations on their latest RE assessments – well done!! JB, AW (9M), CF, MS (9F), JP (9V), BW (10V), DT (10M), MS (10F), WG, JE, GC, EB (10T)
AO, BJ, AR, IW and MM (7T) for fantastic Wizard of Oz costumes today for World Book Day!
Mr Rooney:
51 Pupil Big Sleepers! Phenomenal numbers! (Too many to name!)
ED, CG (9F), PL (9V), CL (9M), AMS, EF (10V) for their brilliant efforts selling tickets for the chocolate raffle!
Mrs Barratt & Mrs Millar Facey for the amazing efforts with all MFL lessons
Bakers for today's cake sale: TC (8F), PL (9V), LR, HE (9T), MW (9M), CG, ED (9F), LP (10M)
Miss Mallows:
Thank you to the staff in the Creative Arts and Tech faculty for making me feel proud of the faculty and putting a smile on mine and the pupils faces each day by teaching superb creative lessons and getting additional paperwork done on time! (Mrs Evans, Mr Ollivierre, Mr Blakey, Mr Sibley, Mr Ford, Mrs Peters)
Mrs Blake:
Year 10 Drama class for bringing so much enthusiasm and energy to their rehearsals today. Keep it up!!
A big shout out to Mr Ford for his support this week. Thank you.
A big well done to all the year 10s taking part in the Big Sleep tonight.
Mr Ollivierre:
My 'special moment of the week' was spending quality time with my form group 11M during PSHE Period 3 yesterday (they did not make me cry this time!)
Mr Ball:
9F for some great business ideas in PSHE.
Mrs Snell:
To these guys for smashing Wessex Archaeology Project Rejuvenate in the rain and wind – and making some banging hot dogs on the fire! Represented SJCS like pros and I was very proud of them all. JB (9T), CW (10V), TS (10F), MO (10M), HW, AG, WF, RH (11T), JK, KJ, MM (11F).
A huge thank you to everyone, especially the pupils that have made my time at SJCS so special. Next week is my last – have loved running outdoor wellbeing projects and working so closely with some of you, you shall be missed. Hold your heads high, be proud of who you are becoming and carry on smashing it at life.
Mrs Bowman:
Huge shout out to ALL the wonderful staff and pupils at St Joes for being the absolute best not just this week but every week! Very sad to be leaving you all but thank you for all the laughs and care, carry on being as amazing as you are!
Thank you to everyone for making this week such a great one!