Year 11 GCSE Grading 2021
As we are all aware, the Covid-19 pandemic has had a significant impact on all of our pupils learning over the past 12 months. At St Joseph's we are truly committed to ensuring that our pupils are not disadvantaged in any way as they move into their next steps of life. Whether moving into the world of further education, sixth form, apprenticeships or work, we will do everything in our power to ensure that you receive the GCSE grades you have worked so hard for, and deserve.
Government Guidance and Changes
Please use the links below to access all of the guidance, statements and consultations the government has undertaken with Ofqual and the DFE to arrive at the changed system for 2021.

The systems and structures we are putting in place for 2021 take into account all aspects of the proposals, along with an assurance that pupils and parents will have the opportunity to ask questions, share thoughts and feedback throughout.
Following the government's decision to cancel exams, a period of consultation followed as outlined HERE.

The outcome of the consultation can be found

HERE

.

Ofqual Rationale

HERE

.

Ofqual responded to the government

HERE

.

Government responded to Ofqual

HERE

.

Final Ofqual decision and roadmap

HERE

.

Ofqual releases draft guidance to Schools

HERE

.

Ofqual releases draft rules for objectivity in assessment

HERE

.
The final outcome of the process is THIS DOCUMENT released by Ofqual on 24th March 2021 and will act as a guide to policy for all schools.
Key Points
There will be no exams, therefore there can be no 'mocks'
Given that no GCSE exams will be taking place, it stands to reason that there will be no mock exams. Mock exams have traditionally been used as practice runs to help prepare pupils for the challenges of the exam season. Given that this is not taking place, the mocks become redundant. If exam papers are used in lessons, either prior to the assessment window, or without prior notice, they are there simply to support learning and help teachers better gauge your understanding – not to assess you!
Teachers will be using professional judgement to allocate grades.
This professional judgement will be based on a wide range of evidence to enable them to assign the most suitable grade for each pupil. Evidence may (or may not, dependant on subject) include:
Existing work completed and assessed over the past 2 years.
Exam board set questions used to gauge understanding and learning (released after Easter break).
In class assessments of individual topics.
Engagement in class and first-hand witnessing of pupils answering questions in lessons.
No single piece of evidence will determine a pupil's grade
This is a critical aspect of the process due to the varied nature of impact the lockdown periods have had on pupils. The teacher's professional judgement will be across the widest view of all available evidence.
Individual circumstances will be taken into account.
This process of grade allocation will take into account all aspects of the pupils learning journey including, but not limited to:
Additional Education Needs
Attendance and illness
Access to equipment and engagement during periods of lockdown
Any significant factors that have impacted a pupil's learning outside of their control.
Exam board information will be made public
All schools are currently working hard to map pupils learning to ensure that any evidence gathering, or internal assessment is fair, balanced and only focussed on topics that pupils have been taught and have a reasonable expectation of providing evidence of learning.

This process of assessing learning to provide evidence will be boosted when exam boards release their guidance, support material and collections of topic questions. These materials will be released after the Easter break and following time to review and analyse will be used in lessons with pupils.

This support information, along with the assessment questions will be made publicly available by the boards to enable pupils to prepare as required for those topics to be assessed, as well as to ensure parity should classes view these materials at different times.
It is still 'time to shine!'
Pupils have ample opportunity to show their learning, their progress and their skills over the coming months to help teachers give the grade each pupil deserves. Now is the time to push learning, work hard, show these skills and make sure your teachers see the best you are capable of. Any form of assessment or evidence gathering will be on topics as outlined later in this document.
Ofqual guidance to parents
Ofqual's interim chair, Ian Bauckham, has been explicit in his view that teachers face a difficult and complicated task with significant professional and moral dilemmas. In his SPEECH to the National Association of Headteachers he explains the desire for transparency for pupils and parents is essential, however the process of allocating grades is not a negotiation.

"I have also heard concerns expressed about undue parental and student pressure being placed on teachers to try to influence their judgement. We will be providing for the reporting of all such activity, as it is essential that teachers' already difficult task is not made more difficult by having to deal with these additional and unacceptable pressures."

We at St Joseph's would ask for your support during this difficult period to enable us to focus on the job at hand. Should you have any questions or queries please direct them to Mr McGuinness – kmc@sjcs.org.uk
Timeline
Below are the details of the process showing each stage, further details can be found below. All dates are week beginning.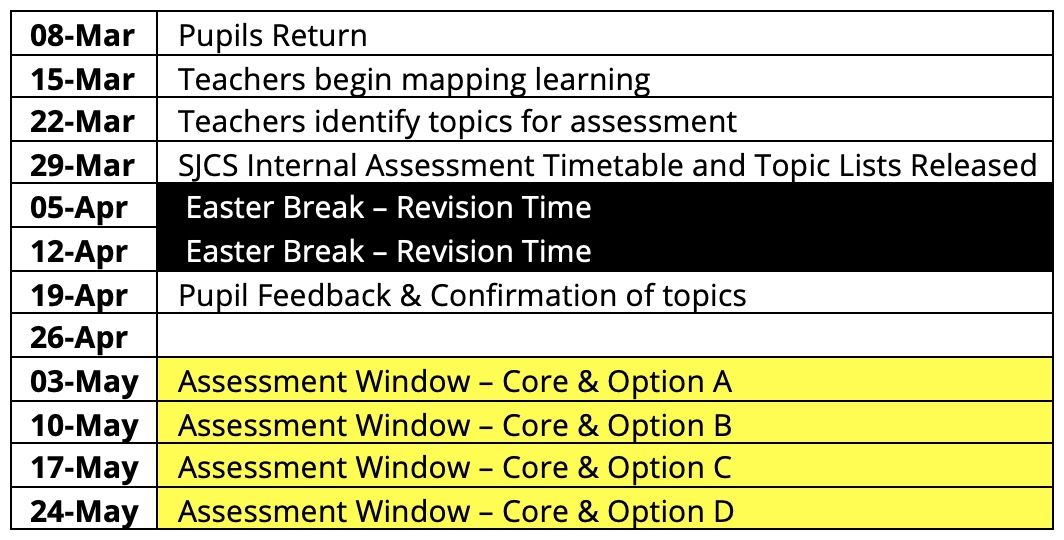 THE LAST DAY FOR YEAR 11 PUPILS TO ATTEND IS FRIDAY 28TH MAY
(there may be circumstances such as absence from assessments, lack of suitable evidence etc, that may require specific pupils to be asked to attend school during the week of 7th June)
Mapping Learning
Teachers have spent considerable time mapping the learning that has taken place across the key stage, taking into account all aspects that may have may have impacted the curriculum.
Once the topics have been mapped, teachers have identified suitable topics to form the basis of further assessment.
Confirmation of Topics
The topics that will be assessed in each subject area can be found HERE.
PLEASE TAKE THE TIME TO READ THIS DOCUMENT CAREFULLY. IF YOU HAVE ANY SPECIFIC CONCERNS THAT MEAN YOU WERE NOT ABLE TO ACCESS AN AREA OF LEARNING PLEASE EMAIL FULL DETAILS TO YRY@SJCS.ORG.UK
Revision Time
To give you the best opportunity to shine in your assessments, we recommend a structured revision programme over the Easter holiday.
Assessment Window
All assessments will take place in this 4 week window, during lesson times. There will be NO formal examination process, exam desks, extra time etc.These assessments are NOT exams in the traditional sense, they are opportunities to show your teachers what you have learned to help shape the grade you eventually recieve.
Grading
Following the assessment window, teachers will be working to finalise a final grade that they feel best represents your level. Teachers will be using the assessments, knowledge of previously completed work, along with any other prior evidence to guide their professional judgement as to the grade you will be given.
Teachers are NOT ALLOWED to share any grades with pupils under direction of Ofqual and the DFE - please DO NOT ask them to.